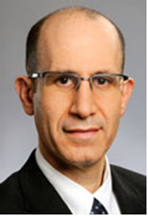 Dr. David Kooby, Professor of Surgery, Emory University School of Medicine and Director of Surgical Oncology, Emory Saint Joseph's Hospital, will hold a special seminar for the McCain Pancreas Cancer Centre group next Thursday, March 31.
The McCain group offers highly specialized, multidisciplinary care for patients with pancreatic cancer and consists of surgeons, medical and radiation oncologists, nurses, researchers, residents and fellows from the Toronto General Hospital and the Princess Margaret Cancer Centre (McCain Centre).
Trainees and staff will have the rare opportunity to learn and discuss "Borderline Resectable Pancreatic Cancer" with Dr. Kooby.  His seminar will focus on surgical care and inclusion of a multidisciplinary approach with original data and some research-in-progress.
Dr. Kooby is in Toronto next week speaking for the Department of Surgery, University of Toronto as this year's honoured John Palmer Lecturer, (Friday April 1).